Top Rated Crossbows For Women:
1. Wicked Ridge M-370 Crossbow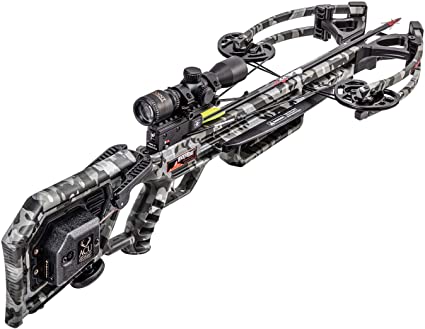 Brand
TenPoint
Model
Wicked Ridge M370
Style
Compound
Colour
Peak
Specifications
Crossbow Mass: 5.8 pounds
Arrow Weight: 435 grains
Speed: 350 FPS
Power Stroke: 13.8 inches
Draw Weight: 180 pounds
Kinetic Energy: 118 Ft Lbs
Momentum: 0.676 Slugs
Axle to Axle Width: 9.5 inches (cocked) 14 inches (uncocked)
Total Length: 35 inches
Key Features
ACUDRAW cocking device which is a built-in device that draws your crossbow with only 5 pounds of effort
T4 trigger – Auto-engaged safety trigger and a dry fire inhibitor with 3.5 pounds
Material
Double laminated gordon Glass limbs
Warranty
Lifetime Manufacturers limited warranty; except for
5 Years on bow limbs, scope, and cocking devices
Strings and cables not covered by warranty
Inclusions
3-Arrow Instant Detach Quiver
3 – XX75 Arrows (or 3 – Pro Elite 400 carbon arrows with practice points)
TenPoint's 3 x Multi-Line Scope
ACUdraw or Rope-Sled
Price
Pros
Integrating cocking system
Very light
Cons
Not powerful enough to take down large came from long distances.
TenPoint is well-known for producing some of the most quality products and they have outdone themselves with this bow designed. Even though crossbow hunting is predominately a male sport, more women are joining each year creating a large market for crossbows better designed for women. Weighing a mere 5.8 pounds, the M-370 maintains a 150 drawback weight with plenty of power to take down the game.
The ACUDRAW COCKING DEVICE is a built-in cocking device accurately draws this crossbow with only 5 pounds of effort.  This model is durable with double laminated Gordon glass limbs. It has a T4 Trigger auto-engaged safety trigger with Dry-Gire inhibitors. There are additional flanges along the rail for easy finger placement out of the string path.
This one shouldn't get overlooked!
2. Excalibur GRZ2 Crossbow – Realtree Xtra

Brand
Excalibur
Model
CRZ2
Style
Recurve
Colour
Relatree Xtra
Specifications
Crossbow Mass: 5.5 pounds
Arrow Weight: 150 grains
Speed: 305 FPS
Power Stroke: 11.2 inches
Draw Weight: 200 pounds
Draw Length: 15.5 inches
Kinetic Energy: 30.98 Ft Lbs
Momentum: 0.203 Slugs
Axle to Axle Width: 10 inches (cocked)
Total Length: 33.25 inches
Key Features
Material
Warranty
Lifetime warranty on Manufacturers defects
Inclusions
Fixed poer scope with 1 inch rings
Rope-cocking aid
3 – Diablo arrows with 150 grain field points
4 – arrow quiver
Foot stirrup
Price
Pros
Lots of extras
Very light
Cons
Draw weight not as light as we would like.
The Excalibur GRZ2 Crossbow is another good option for the lady hunter. This crossbow weighs in at a very nice and light 5.5 pounds.  Which is great for ladies or smaller framed men or youths. The Excalibur GRZ2 unfortunately doesn't have the lightest drawback weight at 200, but is still a lighter drawback than many others on the market. This crossbow will be easier to cock with a coking rope aid which will allow the draw weight to be reduced by 50%.  The overall length is a nice compact 33.25″ and draw length of 15.5″.
The Excalibur GRZ2 shoots a respectable 305FPS, and comes with 3 diablo arrows with 150 grain field points and a 4 arrow quiver.  This crossbow fearutes a fixed power scope with 1″ rings.  Excalibur is a brand known for its high quality and durability.