Crossbow hunting is not only quieter than using a rifle, but it requires great skill.
One of the most difficult things that you encounter is lining up your shot from a distance, and making sure that you hit your mark. That 350 lb draw weight at 330 FPS is only going to do you so good if you can't aim straight.
Best Overall
Best Night Vision
Best Red Dot Scope
Scopes are the answer. With the right range, proper reticle, and quality parts to keep it true despite how many bolts you pop off, a crossbow scope could be the difference between bagging game or playing target practice with tree trunks.
We've taken the time to find the best crossbow scope and a few others to show you what a quality scope should really contain.
We kept budget, carry weight, and daytime use in mind when selecting this list. These are the best that you can find.
Best Crossbow Scopes – Reviews For 2021
Best Overall: Hawke Sport Optics XB1 Vari-Speed SR IR Crossbow Scope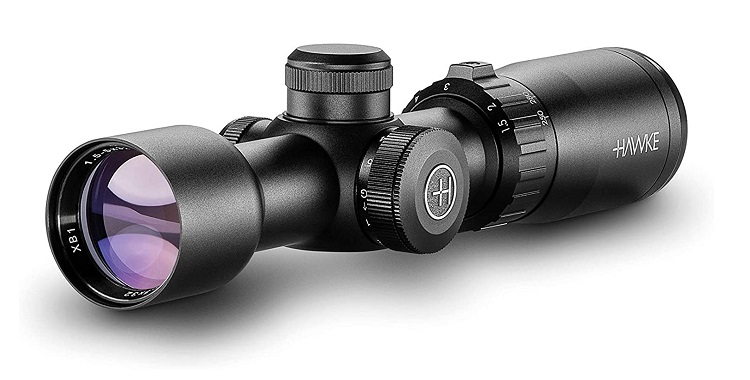 Aimpoint: 10 yards
Mount Type: Picatinny
Objective: 32mm
FoV: 25 ft at 100 yards
The best crossbow scope on the market is none other than Hawke Sport Optics XB1, and while it's not perfect, there are plenty of high-hitting features that we can't wait to share with you.
Starting with the size, it's a fairly compact scope measuring just 8.5" long, and only comes in at 0.81 lbs, keeping your crossbow nice and lightweight. Hawke Sport Optics put a lot of thought into user carry weight and optimizing the scope for this.
It wouldn't be the best crossbow scope without variable speed zoom, now would it? You can adjust from 250 FPS up to 425 FPS rather quickly, so that you can calibrate your shots better and ensure that everything lines up as expected.
While we would have liked to see a bit more variation for lower FPS crossbows, 250 FPS is pretty much the least you would want if you're trying to kill anything other than a rabbit with your crossbow.
With an eleven-layer multi coated lens, you basically have optics that nothing can rival. What this does is not only make the lens scratch-resistant, but it  also turns any feedback of light you get through the scope crystal clear. Simple single-coated lenses work fine enough, but they don't have longevity. This lens should do you for the entire lifespan of your scope.
If you don't have proper visibility in your sights, then you're not going to land the shot. The XB1 includes drop compensation, which is key, but apart from that they also give you the chance to zero in up to 100 yards away.
If you're using a high-powered crossbow and like to keep your distance when hunting predatory animals, you'll get tons of use out of this feature. To make it even better, the reticle is illuminated and etched into the glass. I can pretty much assure you that you've never looked through a sight as crisp as this one.
Because of the power this thing boasts, you have nine different drop compensation lines. Your red reticles get smaller as it goes down, but from the 70 yard mark onward, it's much easier to balance your target on top of the pins.
In this case, you'll get detached flip-up covers, as well as the battery (CR2032, do not replace it with any other type of battery), and a lens cloth to keep everything clean. The box itself is nice if you store your scope separate from the crossbow when you're done with the huntt. With a relatively lightweight 13 oz build, solid flip covers, and excellent eye relief settings, you'll be able to use this crossbow scope for decades to come.
Runner up: TRUGLO Crossbow 4×32 Compact Crossbow Scope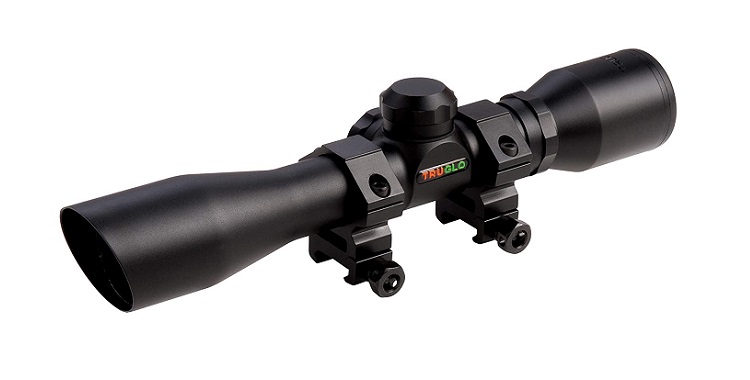 Aimpoint: 20 yards
Mount Type: Picatinny
Objective: 32mm
FoV: 24 ft at 100 yards
This is the first time that TRUGLO appears on our list, but you'll certainly be seeing more of them later on. This scope follows an odd trend from TRUGLO: we selected the all-black scope because camouflage versions of the scope end up being as much as 50% more expensive. The camouflage pattern is nice, but as long as you know what you're doing, the all-black exterior will do its job just fine.
TRUGLO specializes in making affordable scopes, and that's exactly what they've done here. If you're all about high-powered crossbows firing at long range, then you'll be in heaven. Long-range shots can take a while to set up, which is why TRUGLO also included
While this doesn't have the best crossbow red dot scope, you get something else entirely: fully luminescent red, blue, or green drop compensation lines and a center reticle. Arguably, this gives you far more utility than a simple red dot ever could.
TRUGLO didn't skimp on quality just to bring you something cheaper, by the way—they've made this entirely shock resistant, and waterproof enough to keep light rain at bay. With just about any crossbow scope, you should always do your best to keep all moisture away from it, but a bit of rain won't kill this.
The entire chamber is nitrogen gas-filled, which helps give that clarity, but also helps prevent fogging on the inside of the lens (when that moisture thing becomes a problem). As long as you take care of the lens and make sure it's sealed, then this scope will do you well for a long time.
Utilize the rheostat controlled adjustable brightness to switch from early morning hunting to late afternoon hunting, but just be sure that no matter what, you do not replace this with a different battery model.
The battery in here can last for years if used properly, and that's because of the low voltage output. It's easy to make the mistake of putting a high powered battery in here assuming it means it will last longer, when in reality you can fry the whole scope.
As with just about every TRUGLO product, you have a limited lifetime warranty. That means manufacturing defects, or damages caused by manufacturer defects will all be covered by TRUGLO, so you can keep all that worry off your shoulders. They've got you covered.
Alternative: Killer Instinct LUMIX Speedring Scope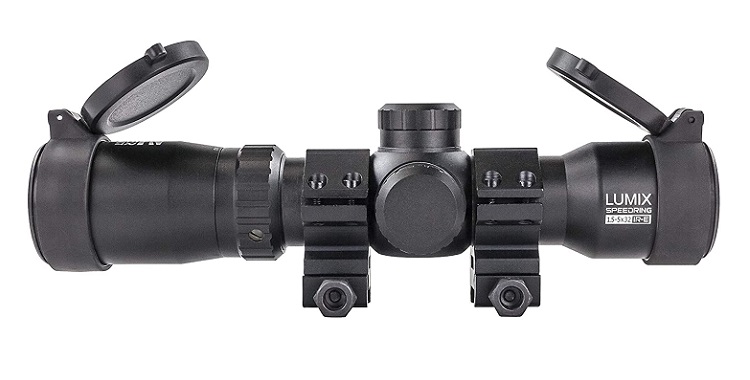 Aimpoint: 20 yards
Mount Type: Picatinny
Objective: 32mm
FoV: 25 ft at 100 yards
Thanks to the variable settings, it's easily one of the best crossbow scopes for low light situations. No matter what's happening ahead of you, the advanced aiming system helps direct your focus to the right place at the right time, illuminating the crosshair and helping to identify your target properly.
You can't have a good scope without a solid frame to hold the lens, and house the flip up caps. Killer Instinct spared no expense here, possibly making one of the best frames out of any scope on our list. First and foremost, it's made of a high-quality metal that feels heavy in your hand, but because of the length it doesn't weigh down your crossbow.
The frame holds the lens, but the frame itself is fogproof as well as shockproof and water resistant. When it comes to water resistance, no scopes should encounter enough water to submerge it even slightly, but this will keep the rain out at the very least. It's a well-built frame.
Apart from the frame keeping the lens in place, it does come with one issue: mounting. Once you mount this on your crossbow, it's not going anywhere. This scope stays in place, but it can sometimes be difficult to actually go through the entire mounting process. Even on a newer Picatinny, even if you oil it, this is just such a snug fit on the crossbows we used during testing that it makes the whole thing a bit more difficult to use than many other scopes.
In the grand scheme of things, this is a pretty small issue, because once it's mounted you're good to go. The 32mm tube gives you an excellent FoV regardless of your distance. Speaking of distance, when you sight the red dot to 20 yards, your lowest drop compensation line will be at 80 yards, so even if you're further away from prey than you anticipated, you'll still be able to land your shots.
While the price is right, the warranty is not. It's a one-year warranty, and on a scope of this caliber, that's insultingly low. Although, if you own a crossbow from Killer Instinct, you have to ship it out to be inspected by an authorized dealer to maintain your warranty, so it's not as bad as it could be.
Best Crossbow Night Vision Scope: Night Owl NightShot Riflescope with IR Illuminator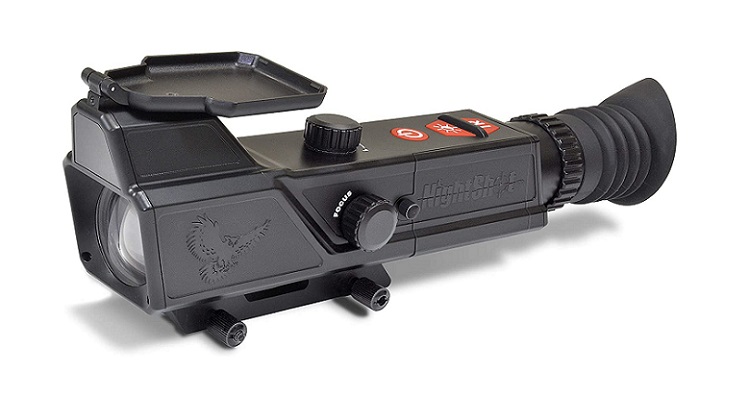 Aimpoint: 20 yards
Mount Type: Picatinny or weaver
Objective: 52mm
FoV: 5.6 degrees
As the best illuminated crossbow scope available on the market today, Night Owl's NightShot grants you exceptional IR illumination to get the edge on your targets ,even when it's the early morning and visibility is at an all-time low. The thing is, this is usually a rifle scope, but it's so versatile that it made the list despite not being a dedicated crossbow sight.
With simple operation and adjustments, as well as a relatively weatherproof design, the scope is solid. It's fogproof, water resistant, and the exterior doesn't really wear down from UV ray exposure either, so it has that going for it.
Clarity exists for up to 600 feet, which is something you don't get with other scopes. After you sight in by about 100 yards, some scopes get a little fish-eyed or blurry. Night Owl put the lens quality as a top priority, and it shows.
Is it the best scope for crossbow use? Depending on what time of day you hunt, it just might be. Personal preferences aside, we can objectively look at the major benefits you get from the NightShot and say that it blows other scopes out of the water.
IR illuminator scopes tend to get a bad rep because their daytime use is limited—Night Owl thought of that ahead of time. Daytime use can be fully engaged without any loss in clarity or damage to the IR illuminator. You're not going to hurt your eyes to look through it when the sun is at its highest peak.
It's compact, it mounts well, and it's poised to last for a very long time. One rather irritating oversight is the battery compartment. It's located on the underside of the scope, so if you like to keep your scopes attached to your crossbow even when not in use, you'll have to take it off to swap out the battery.
The chassis is durable enough, but because it's not made of high-quality metal like some other scopes, it's not as durable against abrasions.
Those are some pretty minor things, huh? Overall, the NightShot hit this out of the park, and absolutely deserves to be on your shortlist of options for your crossbow scope.
Best Crossbow Red Dot Scope: TRUGLO Red Dot Crossbow 3-Dot Sight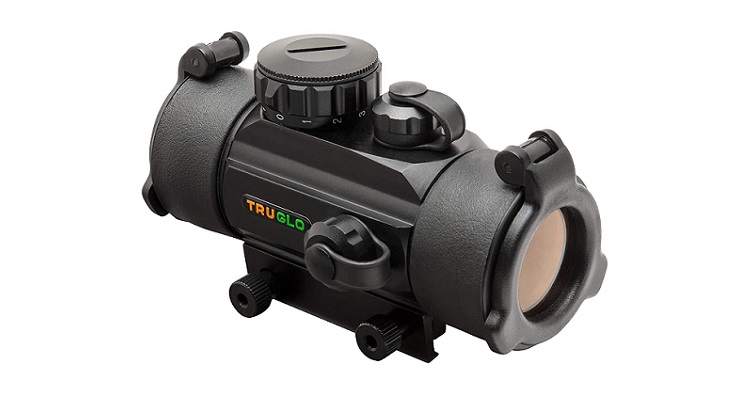 Aimpoint: 20 yards
Mount Type: Picatinny
Objective: 30mm
FoV: 28 ft at 100 yards
More money doesn't mean more visibility. TRUGLO knows that certain scopes can cost hundreds of dollars without really justifying the cost, which is why they made the best budget crossbow scope that doesn't break the bank.
While the cost is the initial draw to this scope, the features are surprising. They're usually only seen in scopes that hit the hundred dollar price range.
WIth easy windage and elevation adjustments, you can alter your scope in the field as often as you need to. There's a caveat to this, though: these dials are fairly easy to turn, so you might end up accidentally messing with your settings without meaning to.
The only other major issue here is that while this is a budget-friendly model, that's only for the all-black scope. If you try to purchase the camouflage version, it spikes the price up by over 70%, which is absolutely insane. Half of the appeal here is saving money, so to do that just seems like a bad move on TRUGLO's part.
While it's not the best crossbow scope for night hunting, it does have brightness settings that can help despite not having an IR output. Visibility isn't just about light, but also about the amount of space in the bezel around the scope when you're trying to find a target. Night hunting with a crossbow is supposed to be silent, and you can maintain that eerie stillness with this scope for sure.
There's an integrated lanyard system that doesn't get in the way, and it also means that you won't lose your caps. You can keep your scope protected whenever it needs to be. While the scope can be limiting at just 30mm, it gets the job done for crossbow hunters with mild to moderate experience using scopes in the past.
Last but not least, TRUGLO includes a limited lifetime warranty with your purchase. What that means is that any manufacturing defects, or eventual damage that can be linked back to a manufacturing defect, will all be covered.
TRUGLO will replace the scope with no questions asked. Apart from their stellar customer service and in-depth product information that helps you make an informed decision, the warranty is like the icing on the cake.
Best Crossbow Scope Buying Guide and FAQ
Can You Use Any Scope on a Crossbow?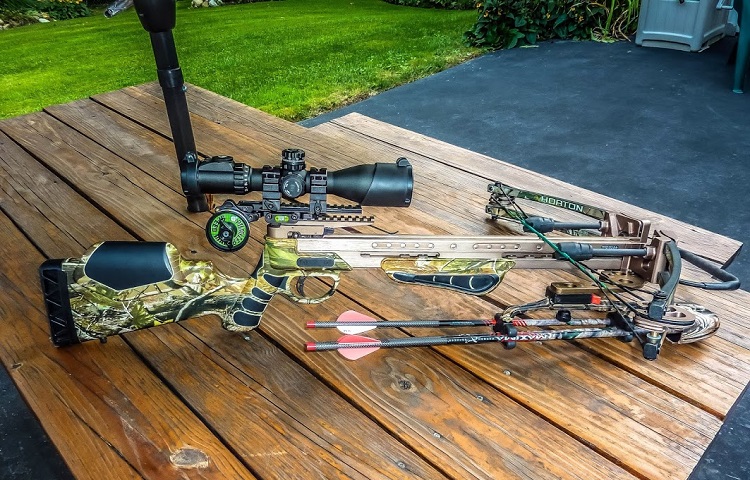 Yes, and no. You can use any scope with a crossbow as long as it works with the mounting system on your crossbow.
You could either go with the best night vision scope for crossbow, or simply take an older hunting rifle scope from some no-name brand and attach it.
But just because you can do something doesn't mean you should. Older rifle scopes aren't designed for crossbows and don't feature the same drop compensation lines, which are far more important than most new crossbow users first think.
Choosing your crossbow scope is a matter of choosing whether or not you want to hit the target. Rifle scopes just offer the same utility, even if you are able to sight in the bottom line with twenty yards or so.
What Distance Should You Sight in a Crossbow?
Most crossbow users stick with the classic of 20 yards. This is because after about 20 yards, you start to see a drop in your bolt's travel path. It's not by much, but even by 1.2 inches or something small like that can have serious repercussions on your shot.
It doesn't drop by 1.2 inches and then continue on a straight path: this marks the descent of the bolt, which is why you have those drop-compensation lines on most crossbow scopes.
After about 60 yards, you could be between 8 and 22 inches lower than your initial shot if you don't compensate. Sighting a crossbow for 20 yards gives you a good 60 feet to play with, and if all goes well, you won't be any closer to your target than that.
How Far Can You Kill a Deer With a Crossbow?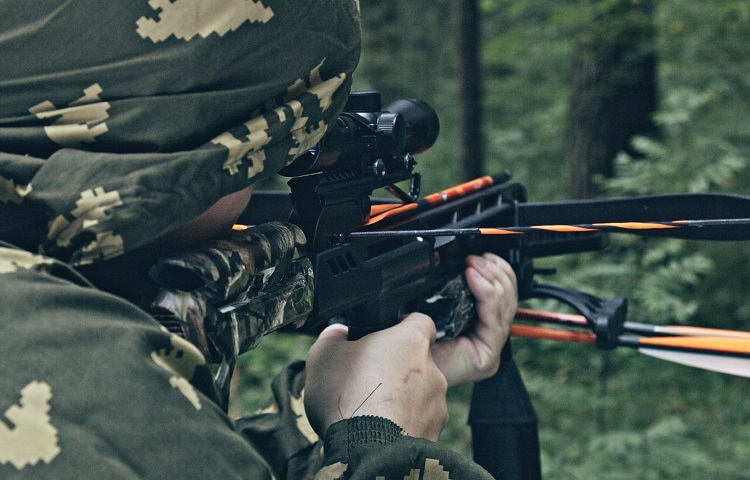 There are two factors: the power of your crossbow (draw weight, bolt weight, bolt head), and then there's actually being able to hit them. If all the conditions are right (which they often aren't), and you can't land a shot, the maximum distance doesn't really matter.
You should kill a deer from no more than 60 yards away, but for high-powered crossbows, you could kill a deer from 300+ yards away (175 lb draw weight, typically with 380 grain bolts). Your aim would have to be Godly, but it could happen.
To have a better chance of hitting your shots, opt for the best low light crossbow scope so that glaring isn't a problem when you zero in and take the shot. If your crossbow is too heavy, it may be hard to properly angle it and level off that drop compensation line on your target, so make sure it's lightweight as well.
We did this crossbow scope review to help you keep things lightweight while getting the best possible sighting on your crossbow so you can hit your shots even from 60+ yards away.
How to Sight in a Crossbow Scope?
Your scope won't do you much good if you can't properly sight it. For this, you're going to need about fifteen minutes of your time (thirty if this is your first time, just to be safe), and a bit of patience.
To sight a crossbow, you'll use horizontal and vertical knobs on your scope to zero them in to the spot you want. The goal is to sight your crossbow at a specific yardage away from where you expect your target to be while hunting.
We have a full, detailed guide on sighting your crossbow right here that explains everything in-depth, in a step-by-step format.
How to Sight in a Multi Reticle Crossbow Scope?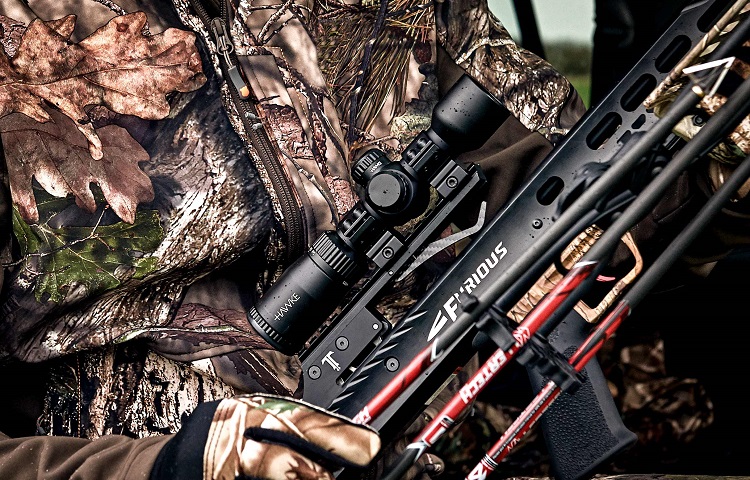 There are two types of multi reticle crossbows: digital settings that change the dot colors or shapes, and drop-compensation scopes.
If it's just a color-changing dot, your calibrations should stay the same no matter how you switch it around. If your digital scope has a way to change the reticle shape, it's recommended to keep it the same so you don't accidentally switch digital settings.
You can see the full guide we referenced in the last FAQ section for in-depth information on how to sight your crossbow properly.
Taking Your Aim to the Next Level
You've seen the top five crossbow scope reviews, the top-notch parts that go into these beautiful pieces of precision engineering, and now all that's left to do is point and pick.
The iron sights (if you can even call them that) on a crossbow aren't good enough for hunting; it's time for an upgrade.