Best youth Crossbow:
1. Barnett Recruit Terrain Crossbow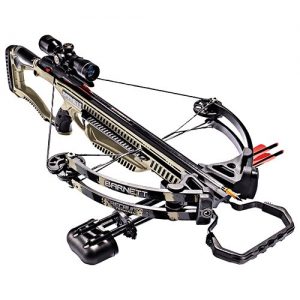 Pros
Easy to cock
Great for small framed shooters
Cons
Only 3 arrows included
The scope could be challenging
Brand
Barnett
Model
Terrain
Style
Recurve
Colour
Desert Tan
Specifications
Crossbow Mass: 6 pounds
Arrow Weight: 400 grains
Speed: 330 FPS
Power Stroke: 13.5 inches
Draw Weight: 140 pounds
Kinetic Energy: 91.9 Ft-Lbs
Momentum: 0.586 Slugs
Axle to Axle Width: 16.125 inches (Uncocked)
Total Length: 34.25 inches
Key Features
Ships mostly assembled
Anti-vibration foot stirrup
Trigger tech technology with 3 pound zero-creep release
Nock sensor and ADF eliminated dry fires
Crank cocking Device Compatible
Material
Warranty
1 year Manufacturers limited warranty
Inclusions
4 x 32 scope
rope cocking device
Quiver
2 – 20 inch headhunter arrows
Lube waz
Price
While the Barnett Recruit is designed for smaller framed shooters, it still offers plenty of speed while weighing much less than other bows. The draw weight sits at 140 pounds, ideal for beginners learning the art of hunting with a crossbow. Weighing a light 6.4 pounds, this bow is accessible to easy to handle for younger hunters to carry by themselves. The draw weight is the most attractive thing about this bow because younger hunters can cock it themselves without additional assistance.
The Recruit comes with the crossbow, quiver, three arrows, and a 4×32 scope- all items needed for assembly. The adjustable stock is quintessential for a customized feel. For a reasonable price, the Recruit offers everything needed for assembly as well as safety features through foregrip to protect a young hunter and provide the best crossbow experience.
2. TENPOINT TITAN M1 CROSSBOW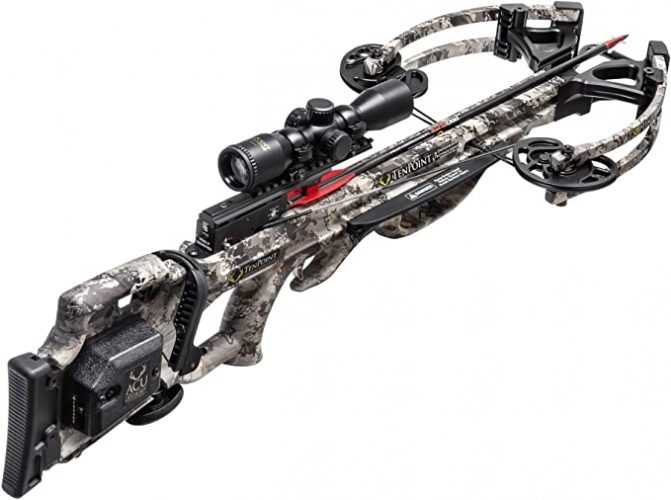 Pros
Weights a lot less than some other brands
Compacted Design
One of the best sellers on the list
Cons
Above average draw weight
Brand
TenPoint
Model
M1
Style
Compound
Color
Multi
Specifications
Crossbow Mass: 6.4 pounds
Arrow Weight: grains
Speed: 360 FPS
Power Stroke: 14 inches
Draw Weight: 180 pounds
Kinetic Energy: 115 Ft-Lbs
Momentum: 0.639 Slugs
Axle to Axle Width: 9 inches (cocked) and 14 inches (uncocked)
Total Length: 32.5 inches (without foot stirrup)
Key Features
ACUdraw (reduces the required cocking force to just 5 pounds) or Rope-Sled
Material
Warranty
Lifetime Manufacturers limited warranty; except for
5 years on bow limbs, scope, and cocking devices
Strings and cables not covered by warranty
Inclusions
3 x TenPoint Pro Elite 400 carbon arrows with 100-grain practice points
3-Arrow Instant Detach Quiver
TenPoint's 3x Pro-View 3 Scope mounted on a machined aluminum 7/8-inch Fixed Dovetail Mount
Price
This crossbow is one of TenPoint's best-seller because of its impressive accuracy enhancement and convenience features. It is a great crossbow for a more advanced or older youth.  What stands out most about this model is how light, short, and fast it is. It has a customizable stock, adjustable height, and a two-position butt plate that is perfect for a customized fit. This bow is everything a youth needs to begin hunting like a pro.
If you're looking for a crossbow for your youth to practice their target shooting with or do small game hunting with you, this couldn't be a better bow to choose. However, if you want a crossbow for the big game, there are many others that hit much harder. It's extremely light, weighing only 6.4 pounds which is a bonus for a youth who is still smaller framed than a full-grown adult. However, it does have a draw weight of 180…so they could still need some help in cocking it. Its compact design means you can hunt in all positions like sitting, standing, or laying down in the brush.
The TenPoint Titan M1 Crossbow comes with a 3x Pro-view 3 Scope, 3-Pack Pro Elite 400 Carbon Arrows, and a 3-Arrow Instant Detach Quiver that is all included with the purchase, which is a major plus for a reasonably affordable price.
The arrows are launched from the bow at 360 feet per second, allowing you to catch the prey that is quick and agile. Its 3X multi-line scope is a huge advantage if you're trying to spot prey, as it becomes calibrated to make your job easier.